Maiden Cay Sunday Beach Day on Loose Cannon - LATE TICKET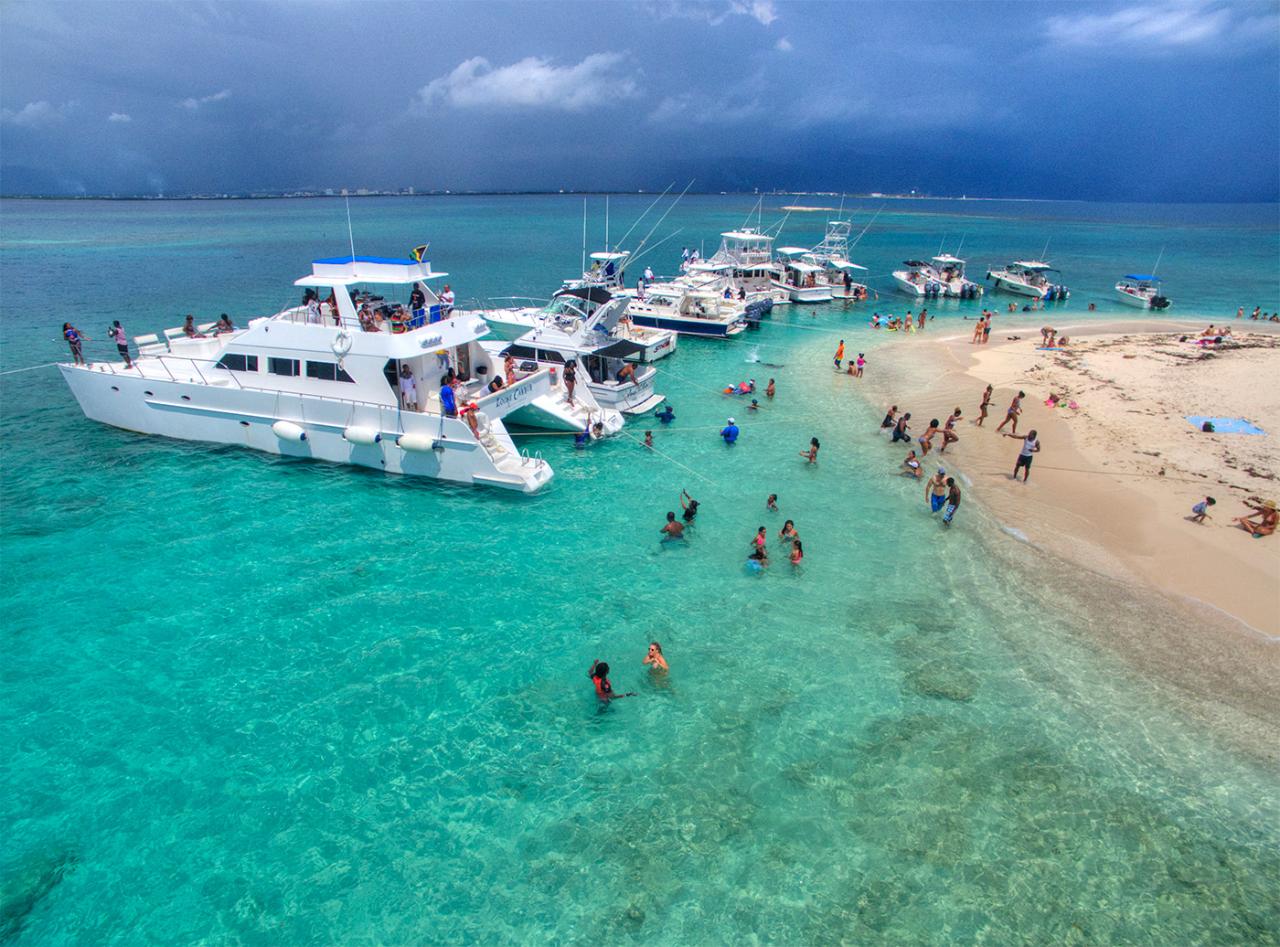 Duration: 4 Hours (approx.)
Product code: MCSBP
STRICTLY FUN…NO WEAPONS ALLOWED
***Please bring with you the credit card used for Payment and a valid photo ID***
Please present a Valid Photo ID when Checking on...Relevant IDs for Discounted Tickets. (Civil Servant Tickets are ONLY for the Jamaican Government)

This and every Sunday, we host an all-inclusive Beach Day on Maiden Cay. We sail out from The Grand Port Royal Hotel (Morgan's Harbour) at 10am, and return at 2pm.

Join the fun and soak up some sun as we head out to one of Kingston Jamaica's favorite white sand beaches, Maiden Cay.
Maiden Cay is an uninhabited island that's about a 20-minute boat ride from the Jamaican mainland.
There's no better way to enjoy this island than on our Food & Drink-Inclusive Sunday Beach Day. Our 69ft. Power Catamaran has all the comfort & amenities that you could possibly need at the beach.
We leave from the Grand Port Royal Hotel in the historically rich town of Port Royal at 10am, and return at around 2pm.
Our live DJ will keep you swaying and our bartenders will keep the vibe flowing at our all-you-can-drink bar...
Our Food Menu includes: (Dependent on the Availability from the Suppliers)
Chicken Pasta
Shrimp Pasta
Jerk Chicken
Patties - Chicken & Beef
Festivals
Garlic Bread
Our Drink Menu includes: (Dependent on the Availability from the Suppliers)
Red Stripe Beer
Heineken Beer
Appleton Special Rum
White Rum
Vodka
Apple Vodka
Campari
Cranberry Juice
Sodas (Pepsi, 7up, etc.)
Presold Ticket Outlets:
1. LooseCannonTour.com
2. Bill Express Locations and online https://www.billexpressonline.com/ (Whatsapp @ (876) 495-2222 your receipt with info)
3. Ribbiz Lounge (Ardenne Road) & ( Victoria Pier, Downtown Kingston)
4. Sweetwood Jerk (by Emancipation Park in New Kingston)
Additional Information:
1. High heels not allowed on boat. Please wear flat shoes.
2. This is a smoke-free environment. No smoking allowed anywhere on board.
3. I.D. must be presented at the dock for discounted tickets.

4. Transportation to the dock is available for an extra $30 per person.

Feel free to WhatsApp us or give us a call if you have any questions.
(876) 495-2222
LOOSE CANNON TOURS COVID-19 PROTOCOLS
The following protocols will be implemented on all outings:
All customers MUST sanitize their hands at the sanitization station or by a designated staff member immediately prior to boarding the boat and are encouraged to sanitize their hand regularly during the tour.
Please note that the prices listed are for presold tickets. Tickets purchased after 7pm on a Thursday night for the Friday Tour and tickets purchased after 7pm on Saturday for the Sunday Beach Tour will attract an additional J$1,000 or US$7.00 at the dock. This measure is to encourage early bookings since we have to provide adequate food and drinks on board for everyone. The late comers pay extra for the dock price to cover the cost of excess that is placed on board for last minute bookings. So buy early and save!!